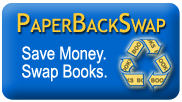 Paper Back Swap
is perfect if you want to...
-get books free...
-read books the library doesn't have...
-get rid of some books...
-need books for school or homeschooling...
-give books as gifts...
-declutter...

-reduce, reuse, and recycle...

It's free and easy and FUN! You list books you don't want and when someone requests your book you mail it to them (costs under $3). For each book (it doesn't have to be a paperback) you send you get a credit to request one of your choice and the other person pays to ship it to you. When you list your first 10 books you get two free credits to give it a try. So you can order 2 books right away - free of charge -- and have them mailed directly to you! No strings attached. No gimmicks. No spam mail. Nothing.
When we
signed up
we chose 12 books we didn't want anymore and listed them. Almost immediately we had 3 requests. I was shocked. Now these weren't bestsellers. They were an odd assortment of non-fiction and cookbooks. But most people, now us included, have a "wish list" of books and as soon as one of those books is listed you get an email request for them. For every book mailed out, you get one in return!
After we cleaned our shelves and my mom's too. :) I started looking for other book sources. Now we go to the library book sale on the last day and fill a bag for $2. Then I come home and list them all on
Paper Back Swap
. You never know what will be requested. Sometimes you are sending a book every couple days and sometimes it's quiet for weeks. If you run out of credits and
really
want a book you can buy a credit for $3.45 which beats paying store prices any day!
If you love to read or if you have books sitting around collecting dust that you'll never read...it's great! You get "new" books and get rid of ones you don't want anymore! The selection is awesome and changes constantly. We have a great time putting books on our wish list (if a book isn't immediately available you just add it to your "wish list"). We have a huge wish list and books come up all the time! The real fun starts as you ship books and start getting others in return!!
If you are a PBS member, leave a comment about your experience. And if you're not feel free to ask questions!